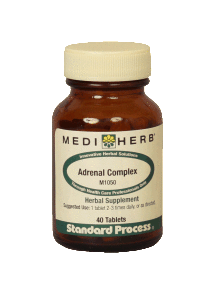 Adrenal Complex contains Licorice and Rehmannia, a combination that contains many compounds including triterpenoid saponins (especially glycyrrhizin), other saponins, iridoid glycosides and many flavonoids. The Licorice component of this tablet is standardized to contain 25 mg of glycyrrhizin per tablet to ensure optimal strength and quality. Together these herbs and the substances within them combine to:
restore adrenal function to reduce the effects of stress on the body
support adrenal gland health and energy production to help combat fatigue
help the body adapt to the challenges of everyday life
promote the body's normal resistance function
support a healthy immune system when experiencing occasional stress Δ
| Content | Product # |
| --- | --- |
| 40 Tablets | M1050 |
| 120 Tablets | M1055 |
Suggested Use: 1 tablet 2 – 3 times daily, or as directed.
SERVING SIZE: 1 TABLET
SUPPLEMENT FACTS
Amount Per Serving
%DV
† Daily Value (DV) not established.
Calories
3
Calcium
73 mg
7%
Licorice root 7:1 extract
from Glycyrrhiza glabra root 1.75 g
Containing glycyrrhizin 25 mg
250 mg
†
Rehmannia rhizome 5:1 extract
from Rehmannia glutinosa rhizome 750 mg
150 mg
†
Other Ingredients
Calcium acid phosphate, cellulose, sodium starch glycollate, maltodextrin, magnesium stearate and hypromellose.
Caution: Contraindicated in high blood pressure, edema (water retention), congestive heart failure, low blood potassium, pregnancy and lactation.
Please consult the product packaging label for the most accurate product information.
Δ These statements have not been evaluated by the Food & Drug Administration. These products are not intended to diagnose, treat, cure or prevent any disease.