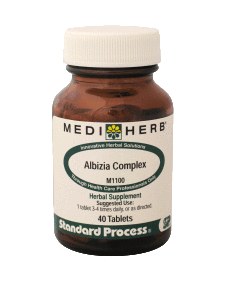 Albizia Complex contains Albizia, Chinese Skullcap and Feverfew. This combination of herbs contains many compounds including saponins, flavonoids (especially baicalin) and sesquiterpene lactones (particularly parthenolide). These herbs can help to:
maintain normal upper respiratory tract and skin function
assist in maintaining healthy breathing passages to support free and clear breathing
respond normally to occasional seasonal stresses
support normal immune response (particularly in the upper respiratory and gastrointestinal tract)
support the body's organs of elimination Δ
| Content | Product # |
| --- | --- |
| 40 Tablets | M1100 |
Suggested Use: 1 tablet 3 – 4 times daily, or as directed.
SERVING SIZE: 1 TABLET
SUPPLEMENT FACTS
Amount Per Serving
%DV
† Daily Value (DV) not established.
Calories
2
Calcium
40 mg
4%
Chinese Skullcap root 4:1 extract
from Scutellaria baicalensis root 800 mg
200 mg
†
Albizia stem bark 8:1 extract
from Albizia lebbeck stem bark 800 mg
100 mg
†
Feverfew leaf & stem 5:1 extract
from Tanacetum parthenium leaf & stem 50 mg
10 mg
†
Other Ingredients
Calcium acid phosphate, cellulose, sodium starch glycollate, silica, hypromellose and magnesium stearate.
Caution: Contraindicated in individuals with known hypersensitivity to Feverfew, parthenolide or other members of the daisy family. Not to be used during pregnancy and lactation unless otherwise directed by a qualified health care professional.
For other contraindications and cautions specific to this product, please refer to the Contraindications and Cautions for MediHerb Botanicals.
Please consult the product packaging label for the most accurate product information.
Δ These statements have not been evaluated by the Food & Drug Administration. These products are not intended to diagnose, treat, cure or prevent any disease.