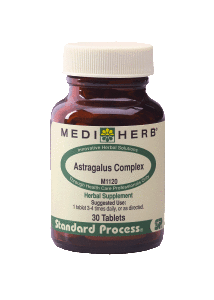 Astragalus Complex is a strong tonic blend containing Astragalus,
Echinacea purpurea
 root and Eleuthero. This combination of herbs contains many compounds including triterpenoid saponins, flavonoids, sterols, caffeic acid derivatives (especially cichoric acid), alkylamides, and a diverse group of constituents called eleutherosides. The Eleuthero component of this tablet is standardized to contain 600 mcg of eleutheroside E per tablet to ensure optimal strength and quality. Together these herbs and the compounds within them help to:
enhance immune system function
maintain feelings of general well-being
assist the body during convalescence
facilitate the body's normal response to occasional stress
promote a healthy response to environmental stress Δ
| Content | Product # |
| --- | --- |
| 30 Tablets | M1120 |
| 90 Tablets | M1125 |
Suggested Use: 1 tablet 2 – 4 times daily, or as directed.
SERVING SIZE: 1 TABLET
SUPPLEMENT FACTS
Amount Per Serving
%DV
† Daily Value (DV) not established.
Calories
3
Calcium
40 mg
4%
Astragalus root 4:1 extract
from Astragalus membranaceus root 850 mg
212.5 mg
†
Echinacea root 6:1 extract
from Echinacea purpurea root 650 mg
108.3 mg
†
Eleuthero root 10:1 extract
from Eleutherococcus senticosus root 750 mg
Containing syringaresinol diglucosides as eleutheroside E 600 mcg
75 mg
†
Other Ingredients
Cellulose, calcium acid phosphate, silica, sodium starch glycollate, maltodextrin, hypromellose and magnesium stearate.
Caution: Contraindicated in known allergy to plants of the daisy family. Not to be used during pregnancy and lactation unless otherwise directed by a qualified health care professional. Discontinue during an acute infection or fever.
For other contraindications and cautions specific to this product, please refer to the Contraindications and Cautions for MediHerb Botanicals.
Please consult the product packaging label for the most accurate product information.
Δ These statements have not been evaluated by the Food & Drug Administration. These products are not intended to diagnose, treat, cure or prevent any disease.