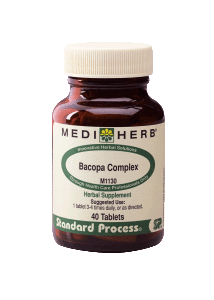 Bacopa Complex combines the herbs Bacopa, Schisandra, Eleuthero and the essential oil of Rosemary. These herbs contribute key phytochemicals to the blend such as dammarane saponins, other saponins, flavonoids, sterols, dibenzocyclooctene lignans, a diverse group of constituents called eleutherosides, monoterpenes and sesquiterpenes. This tablet contains two herbs with standardized levels of key phytochemicals to ensure optimal strength and quality. The Bacopa component is standardized to contain 37.5 mg of bacosides (a saponin mixture) per tablet, and the Eleuthero component contains 400 mcg of eleutheroside E per tablet. This formulation and the many compounds within it combine to:
enhance mental clarity and support cognitive function
support normal memory function
support physical endurance
ease the effects of temporary and occasional environmental stress
nourish the nervous system Δ
| Content | Product # |
| --- | --- |
| 40 Tablets | M1130 |
Suggested Use: 1 tablet 3 – 4 times daily, or as directed.
SERVING SIZE: 1 TABLET
SUPPLEMENT FACTS
Amount Per Serving
%DV
† Daily Value (DV) not established.
Calories
2
Calcium
105 mg
10%
Schisandra fruit 6:1 extract
from Schisandra chinensis fruit 660 mg
110 mg
†
Bacopa herb 50:1 extract
from Bacopa monnieri herb 3.75 g
Containing bacosides as bacoside A 37.5 mg
75 mg
†
Eleuthero root 10:1 extract
from Eleutherococcus senticosus root 500 mg
Containing syringaresinol diglucosides as eleutheroside E 400 mcg
50 mg
†
Rosemary (Rosmarinus officinalis) leaf essential oil
10 mg
†
Other Ingredients
Calcium acid phosphate, cellulose, sodium starch glycollate, maltodextrin, hypromellose, magnesium stearate and silica.
Caution: Contraindicated in pregnancy. Contraindicated during lactation unless otherwise directed by a qualified health care professional. Discontinue during an acute infection or fever.