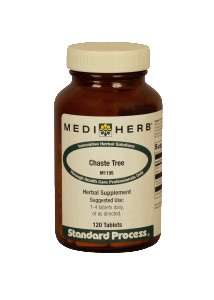 Chaste Tree contains flavonoids (especially methoxylated flavones), iridoid glycosides (such as aucubin), diterpenes, sesquiterpenes, an essential oil and other compounds which together:
promote a natural, healthy balance within the female endocrine system (particularly in relation to supporting normal progesterone levels)
encourage healthy menstrual cycling
ease discomfort associated with premenstrual syndrome
support normal reproductive function in women
maintain healthy skin in circumstances requiring a normal hormone balance (in men and women)
ease temporary feelings of tension associated with the menstrual cycle ∆
| Content | Product # |
| --- | --- |
| 40 Tablets | M1190 |
| 120 Tablets | M1195 |
Suggested Use: 1 tablet 1 – 4 tablets daily, or as directed.
SERVING SIZE: 1 TABLET
SUPPLEMENT FACTS
Amount Per Serving
%DV
† Daily Value (DV) not established.
Calories
2
Calcium
60 mg
6%
Chaste Tree fruit 6:1 extract
from Vitex agnus-castus fruit 500 mg
83.3 mg
†
Other Ingredients
Calcium acid phosphate, cellulose, hypromellose, magnesium stearate, silica and sodium starch glycollate.
Caution: Not to be used during pregnancy and lactation unless otherwise directed by a qualified health care professional.
For other contraindications and cautions specific to this product, please refer to the Contraindications and Cautions for MediHerb Botanicals.
Chaste Tree Quality
Chaste Tree (Vitex agnus-castus) contains three important classes of phytochemicals: iridoid glycosides (such as agnuside and aucubin), flavonoids (such as casticin) and diterpenoids (such as vitexilactone, rotundifuran and vitetrifolin D). It is believed that the diterpenoids are the more important of these constituents and therefore MediHerb has developed analytical methods for the determination of these constituents and manufactures extracts containing high levels of these diterpenoids, but not at the expense of other vital components.
Please consult the product packaging label for the most accurate product information.
Δ These statements have not been evaluated by the Food & Drug Administration. These products are not intended to diagnose, treat, cure or prevent any disease.