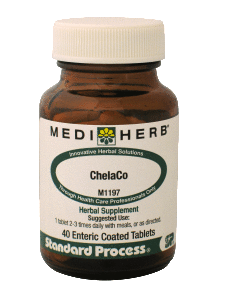 The combination of herbs in ChelaCo contain many compounds including oligomeric procyanidins, flavonoids (such as vitexin-2-rhamnoside), flavanolignans (collectively known as silymarin) and sulfur compounds (particularly alliin). This product is standardized to contain 2.0 mg of vitexin-2-rhamnoside, 80 mg of flavanolignans (calculated as silybin) and 2.0 mg of alliin per tablet to ensure optimal strength and quality. Together these herbs and the substances within them combine to:
encourage the healthy function of the organs of elimination (particularly the normal flushing of toxins from the tissues)
support the body's natural defenses against environmental insult
help maintain healthy blood and tissues
protect liver tissue by supporting normal cellular defenses
provide antioxidant protection Δ
| Content | Product # |
| --- | --- |
| 40 Tablets | M1197 |
Suggested Use: 1 tablet 2 – 3 times daily with meals, or as directed. Enteric coated tablets. Do not break or crush.
SERVING SIZE: 1 TABLET
SUPPLEMENT FACTS
Amount Per Serving
%DV
† Daily Value (DV) not established.
Calories
2
Calcium
74 mg
7%
Hawthorn flowering tops 3:1 extract from Crataegus monogyna flowering tops 300 mg
Containing vitexin-2-rhamnoside 2.0 mg
100 mg
†
Milk Thistle seed 70:1 extract fromSilybum marianum seed 7.0 g Containing flavanolignans calc. as silybin 80 mg
100 mg
†
Garlic (Allium sativum) bulb powder Containing alliin 2.0 mg
100 mg
†
Other Ingredients
Calcium phosphate, cellulose, maltodextrin, sodium starch glycollate, ethyl cellulose, ammonium hydroxide, fatty acids, oleic acid, sodium carboxymethylcellose, talc (magnesium silicate), polydextrose and magnesium stearate.
Caution: Contraindicated in known allergy to Garlic. Contraindicated in lactation. Not to be used during pregnancy unless otherwise directed by a qualified health care professional. In anemia and cases where iron supplementation is required, do not take simultaneously with meals or iron supplements.
For other contraindications and cautions specific to this product, please refer to the Contraindications and Cautions for MediHerb Botanicals.
Please consult the product packaging label for the most accurate product information.
Δ These statements have not been evaluated by the Food & Drug Administration. These products are not intended to diagnose, treat, cure or prevent any disease.