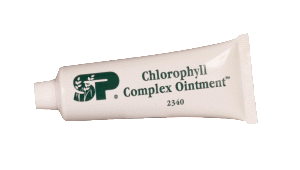 Chlorophyll Complex Ointment supports skin health.
Stimulant for tissue health, maintenance, and regeneration†
Introduced in 1949
| Content | Product # |
| --- | --- |
| 18 Gram Tube | 2340 |
Suggested Use: To be applied locally as an emollient.
 Other Ingredients
Soybean lecithin, fat-soluble extract (from sesame [seed], alfalfa [whole plant], sunflower [seed], carrot [root], Tillandsia usneoides, buckwheat [leaf], and pea [vine]), lard, lanolin, beeswax, flaxseed oil, and bovine orchic glandular extract.
Special Information: For external use only.
* Percent Daily Values are based on a 2,000 calorie diet.
Please consult the product packaging label for the most accurate product information.
† These statements have not been evaluated by the Food & Drug Administration. These products are not intended to diagnose, treat, cure or prevent any disease.