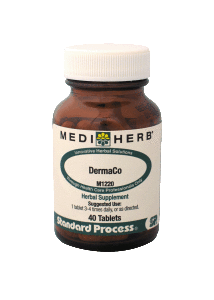 DermaCo contains the following herbs: Sarsaparilla, Cleavers, Oregon Grape, Burdock and Yellow Dock. This combination of herbs contains many compounds including steroidal saponins, sterols, iridoid glycosides, phenolic acids, alkaloids (especially berberine and oxycanthine), acetylenic compounds and anthraquinone glycosides. Together these herbs and the compounds within them help:
support normal flushing of toxins from the body
encourage the healthy function of the organs of elimination
maintain normal uric acid levels within a normal range
promote normal healthy skin renewal and integrity
maintain healthy skin
cleanse the blood
promote healthy liver and intestinal function
encourage healthy bowel function
support healthy kidney function
support lymphatic system function
promote the body's normal resistance function Δ
| Content | Product # |
| --- | --- |
| 40 Tablets | M1220 |
Suggested Use: 1 tablet 3 – 4 times daily, or as directed.
SERVING SIZE: 1 TABLET
SUPPLEMENT FACTS
Amount Per Serving
%DV
† Daily Value (DV) not established.
Calories
2
Calcium
40 mg
4%
Oregon Grape root & rhizome 4:1 extract from Berberis aquifolium(Mahonia aquifolium) root & rhizome 360 mg
90 mg
†
Sarsaparilla root & rhizome 4:1 extract from Smilax ornata root & rhizome 360 mg
90 mg
†
Cleavers herb 5:1 extract
from Galium aparine herb 360 mg
72 mg
†
Burdock root 4:1 extract
from Arctium lappa root 270 mg
67.5 mg
†
Yellow Dock root 4:1 extract
from Rumex crispus root 270 mg
67.5 mg
†
Other Ingredients
Calcium acid phosphate, cellulose, hypromellose, magnesium stearate, silica and sodium starch glycollate.
Caution: Contraindicated in pregnancy and lactation.
For other contraindications and cautions specific to this product, please refer to the Contraindications and Cautions for MediHerb Botanicals.
Please consult the product packaging label for the most accurate product information.
Δ These statements have not been evaluated by the Food & Drug Administration. These products are not intended to diagnose, treat, cure or prevent any disease.