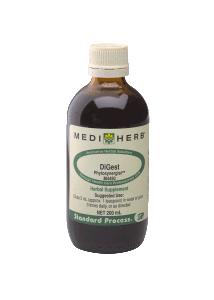 The combination of herbs in DiGest Phytosynergist contain many compounds including bitter principles of the secoiridoid type (especially gentiopicrin and amarogentin), caffeic acid derivatives (especially echinacoside and cynarin), alkylamides, an essential oil (containing α-bisabolol), flavonoids, flavanolignans (collectively known as silymarin), sesquiterpene lactones, phenolic acids and sterols. Together these herbs and the compounds within them help:
stimulate gastric juice output and appetite
support healthy digestion and intestinal function
promote healthy gastrointestinal tone
promote healthy intestinal flora
cleanse the liver
enhance immune function
promote normal response to environmental stresses Δ
| Content | Product # |
| --- | --- |
| 200 mL | M4450 |
Suggested Use: Dilute 5 mL (approx. 1 metric teaspoon) in water or juice 3 – 5 times daily, or as directed.
SERVING SIZE: 5 ML
SUPPLEMENT FACTS
Amount Per Serving
%DV
† Daily Value (DV) not established.
Calories
10
Chamomile flower 1:2 extract
from Matricaria recutita flower 750 mg
1.50 mL
†
Dandelion root 1:2 extract fromTaraxacum officinale root 500 mg
1.00 mL
†
Echinacea root 1:2 extract fromEchinacea angustifolia root 500 mg
1.00 mL
†
Milk Thistle seed 1:1 extract fromSilybum marianum seed 1.0 g
1.00 mL
†
Gentian root 1:2 extract from Gentiana lutea root 100 mg
200 mcL
†
Other Ingredients
Purified water and 51% alcohol.
Caution: Contraindicated in known allergy to plants of the daisy family. Contraindicated in gastric or duodenal ulcers unless otherwise directed by a qualified health care professional. Contraindicated in blockage of the gallbladder. Use only with professional supervision in gallstones. Not to be used during pregnancy and lactation unless otherwise directed by a qualified health care professional.
Please consult the product packaging label for the most accurate product information.
Δ These statements have not been evaluated by the Food & Drug Administration. These products are not intended to diagnose, treat, cure or prevent any disease.