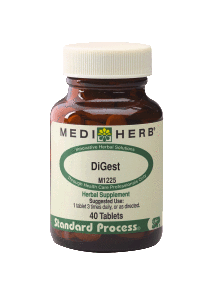 DiGest contains the following herbs: Gentian, Milk Thistle, Ginger, Dandelion Root, Tangerine (ripe fruit peel and cold pressed oil) and Chamomile essential oil. This combination of herbs and oils contains many compounds including bitter principles of the secoiridoid type (especially gentiopicrin and amarogentin),  terpenoids (including α-bisabolol), flavonoids, flavanolignans (collectively known as silymarin), pungent principles (including gingerols), sesquiterpene lactones, phenolic acids, and sterols. This formulation and the compounds within it help:
stimulate gastric juice output and appetite
support healthy digestion and intestinal function
promote healthy gastrointestinal tone
promote healthy intestinal flora
cleanse the liver
promote normal response to environmental stresses Δ
| Content | Product # |
| --- | --- |
| 40 Tablets | M1225 |
Suggested Use: 1 tablet 3 times daily, or as directed.
SERVING SIZE: 1 TABLET
SUPPLEMENT FACTS
Amount Per Serving
%DV
† Daily Value (DV) not established.
Calories
3
Calcium
52 mg
5%
Dandelion root 4:1 extract
from Taraxacum officinale root 500 mg
125 mg
†
Tangerine fruit peel 5:1 extract
from Citrus reticulata fruit peel 500 mg
100 mg
†
Milk Thistle fruit 70:1 extract
from Silybum marianum fruit 2.1 g
30 mg
†
Ginger rhizome 5:1 extract
from Zingiber officinale rhizome 100 mg
20 mg
†
Gentian root 5:1 extract
from Gentiana lutea root 100 mg
20 mg
†
Tangerine (Citrus reticulata) fruit peel essential oil, cold pressed
12.5 mg
†
Chamomile (Matricaria recutita) flower essential oil
5 mg
†
Other Ingredients
Cellulose, calcium acid phosphate, silica, sodium starch glycollate, hypromellose and magnesium stearate.
Caution: Contraindicated in known allergy to plants of the daisy family. Contraindicated in gastric or duodenal ulcers unless otherwise directed by a qualified health care professional. Contraindicated in blockage of the gallbladder. Use only with professional supervision in gallstones. Not to be used during pregnancy and lactation unless otherwise directed by a qualified health care professional.
For other contraindications and cautions specific to this product, please refer to the Contraindications and Cautions for MediHerb Botanicals.
Chamomile Quality
German or true Chamomile (Matricaria recutita) contains a range of essential oil components and high levels of flavonoids. A wide variation in the levels of these constituents is found between different chemical races or varieties of Chamomile. Some varieties do not contain alpha-bisabolol which is an important active component. MediHerb has selected a variety of Chamomile which contains alpha-bisabolol for use in our products. Alpha-bisabolol is detected by Gas Chromatography (GC). Please be aware Roman Chamomile (Chamaemelum nobile = Anthemis nobilis) can be an adulterant in, or substituted for, true Chamomile and should be avoided due to allergic reactions.
Please consult the product packaging label for the most accurate product information.
Δ These statements have not been evaluated by the Food & Drug Administration. These products are not intended to diagnose, treat, cure or prevent any disease.