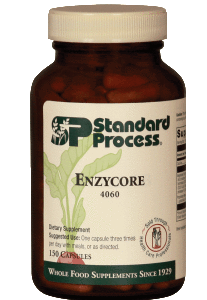 Fundamentals Product
Enzycore is a comprehensive blend of microbial enzymes and whole food ingredients designed to support healthy digestion and maximize nutrient absorption.
Contains microbial enzymes for action within a broad range of pH
Contains a blend of enzymes that comprehensively break down fats, protein, and carbohydrates
Contains kale and beet powder for their trace amounts of lutein and betaine
Contains L-glutamine, an amino acid used as a building block for other amino acids; also provides energy to cells with high energy needs (like those in the intestines)
Provides support during both gastric and intestinal phases of digestion†
Introduced in 2010
| Content | Product # |
| --- | --- |
| 150 Capsules | 4060 |
Suggested Use: One capsule three times per day with meals, or as directed.
Serving Size: 1 Capsule
Supplement Facts
Amount per Serving
%DV
Calories
2
L-glutamine
350 mg
Vegetarian Enzyme Blend:
46 mg
Acid maltase (1MaltU), alpha-galactosidase (45 GalU), amylase (1,800 DU), bromelain (32,880 FCCPU), glucoamylase (3 AGU), invertase (170 SU), lactase (325 ALU), lipase (230 FIP), peptidase (820 HUT), protease 3.0 (3 SAPU), protease 4.5 (4,930 HUT), protease 6.0 (1,640 HUT)
Proprietary Blend: 142 mg Kale (whole plant) and beet (root).
Other Ingredients
Cellulose, maltodextrin, and calcium stearate.
* Percent Daily Values are based on a 2,000 calorie diet.
Please consult the product packaging label for the most accurate product information.
† These statements have not been evaluated by the Food & Drug Administration. These products are not intended to diagnose, treat, cure or prevent any disease.