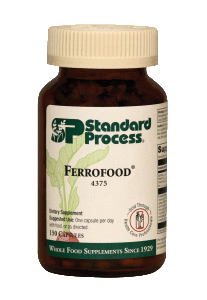 Ferrofood contains iron to support the body's need for this mineral.
Maintains healthy blood
Promotes and supports normal blood production
Supports cellular integrity
Provides iron, which is essential for the synthesis of hemoglobin and helps deliver oxygen to red blood cells
Supports enzyme actions in the body
Contains vitamin C to help with iron absorption
Iron supplementation is often needed during pregnancy and lactation†
Introduced in 1944
| Content | Product # |
| --- | --- |
| 40 Capsules | 4325 |
| 150 Capsules | 4375 |
Suggested Use: One capsule per day with food or directed.
Serving Size: 1 Capsule
Supplement Facts
| Amount per Serving | | %DV |
| --- | --- | --- |
| Calories | 2 | |
| Vitamin C | 30 mg | 50% |
| Vitamin B12 | 1.7 mcg | 30% |
| Iron | 10 mg | 60% |
Proprietary Blend: 234 mgBovine liver, bovine bone, defatted wheat (germ), carbamide, bovine spleen PMG™ extract, veal bone, bovine adrenal, porcine duodenum, carrot (root), choline bitartrate, bovine spleen, ovine spleen, oat flour, citric acid, porcine stomach parenchyma, dried alfalfa (whole plant) juice, mushroom, Tillandsia usneoides, rice (bran), licorice (root), para-aminobenzoate, magnesium citrate, flaxseed oil extract, bovine liver fat extract, and mixed tocopherols (soy).
Other Ingredients
Gelatin, camu camu (berry), acerola (berry), manioc (root), ferrous lactate, water, calcium stearate, dicalcium phosphate, colors, and cyanocobalamin.
Warning: Accidental overdose of iron-containing products is a leading cause of fatal poisoning in children under 6. Keep this product out of reach of children. In case of accidental overdose, call a doctor or poison control center immediately.
* Percent Daily Values are based on a 2,000 calorie diet.
Please consult the product packaging label for the most accurate product information.
† These statements have not been evaluated by the Food & Drug Administration. These products are not intended to diagnose, treat, cure or prevent any disease.