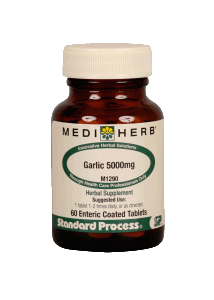 Now contains more alliin (12 mg per tablet), which means more allicin potential for optimal strength and quality.*
Garlic Forte contains sulfur compounds (particularly alliin) and other compounds. This product is standardized to contain 12 mg per tablet of stabilized alliin to ensure optimal strength and quality. The compounds in Garlic Forte, particularly the alliin and resultant metabolites which are formed on ingestion, work together to:
help maintain normal cholesterol levels within a normal range
support cardiovascular system health
encourage a healthy intestinal environment to help maintain proper gastrointestinal flora
enhance immune system response
promote healthy lung function Δ
| Content | Product # |
| --- | --- |
| 40 Tablets | M1285 |
Suggested Use: 1 tablet 1 – 2 times daily, or as directed. Enteric coated tablets. Do not break or crush.
SERVING SIZE: 1 TABLET
SUPPLEMENT FACTS
Amount Per Serving
%DV
† Daily Value (DV) not established.
Calories
2
Calcium
80 mg
8%
Garlic bulb 12:1 extract
from Allium sativum bulb 3.6 g
Containing alliin 12 mg
300 mg
†
Garlic (Allium sativum) bulb powder
45 mg
†
Other Ingredients
Calcium phosphate, cellulose, sodium starch glycollate, ethyl cellulose, ammonium hydroxide, fatty acids, oleic acid, sodium carboxymethylcellose,talc (magnesium silicate), polydextrose, magnesium stearate, silica and d- alpha-tocopherol.
Caution: Contraindicated in known allergy to Garlic. Contraindicated in lactation. Not to be used during pregnancy unless otherwise directed by a qualified health care professional.
For other contraindications and cautions specific to this product, please refer to the Contraindications and Cautions for MediHerb Botanicals.
Garlic Quality
Alliin (an odorless amino acid) is naturally found in Garlic cloves but is rapidly converted to allicin (a strong smelling volatile sulfide) when exposed to the enzyme alliinase in the presence of water or when the Garlic clove is crushed – as shown below by the absence of the alliin peak in the HPLC trace on the right hand side. Allicin is rather unstable and is the precursor to a range of sulfur containing compounds including, diallylsulfides, ajoenes and vinyldithiins. It is important that quality products take this enzymatic process into account since the strongest published evidence to date is for Garlic preparations standardized this way. Therefore alliin must be present together with the correct amount of alliinase in the tablet to allow full conversion to allicin. Furthermore, because stomach acid can degrade the activity of alliinase, quality products should be enterically coated to protect the enzyme. That is why all MediHerb Garlic Forte tablets are enterically coated and are tested not only for the level of alliin but for its conversion into allicin, "its allicin-releasing ability."
Please consult the product packaging label for the most accurate product information.
Δ These statements have not been evaluated by the Food & Drug Administration. These products are not intended to diagnose, treat, cure or prevent any disease.