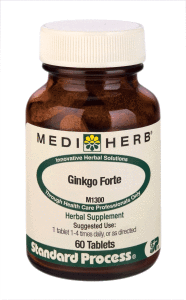 Ginkgo Forte contains flavonoids, terpene lactones (including ginkgolides and bilobalide) and other phytochemicals. This product is standardized to contain 14.4 mg of ginkgo flavonglycosides (ginkgo flavone glycosides) and 3.6 mg of ginkgolides and bilobalide per tablet to ensure optimal strength and quality. The compounds in Ginkgo Forte work together to:
support memory and cognition
promote alertness and mental clarity
help support healthy mental function
support good health in older adults
promote healthy circulation to the brain and peripheral areas of the body which is important for the delivery of oxygen and vital nutrients
support a healthy cardiovascular system
support and encourage healthy blood
provide antioxidant support to help protect nerve cells and other tissues
support normal hearing
support eye health
beneficially modulate cortisol during periods of stress
reduce the congestive symptoms of premenstrual syndrome ∆
| Content | Product # |
| --- | --- |
| 60 Tablets | M1300 |
Suggested Use: 1 tablet 1-4 times daily, or as directed
SERVING SIZE: 1 TABLET
SUPPLEMENT FACTS
Amount Per Serving
%DV
† Daily Value (DV) not established.
Calories
2
Calcium
80 mg
8%
Ginkgo leaf 50:1 extract from Ginkgo biloba leaf 3.0 g
Containing ginkgo flavonglycosides 14.4 mg
Containing ginkgolides & bilobalide 3.6 mg
60 mg
†
Other Ingredients
Calcium acid phosphate, cellulose, magnesium stearate and sodium starch glycollate.
Caution: Not to be used during pregnancy and lactation unless otherwise directed by a qualified health care professional.
For other contraindications and cautions specific to this product, please refer to the Contraindications and Cautions for MediHerb Botanicals.
Ginkgo Quality
The ginkgo flavonglycosides (ginkgo flavone glycosides) of Ginkgo biloba, comprising quercetin, kaempferol and isorhamnetin are the phytochemicals most often referred to as indicators of quality and efficacy. However, these compounds are mainly marker compounds which are used to identify the extract. The therapeutically active ingredients are believed to include the ginkgolides and bilobalide, which cannot be tested by normal HPLC methods. They require more sophisticated methods of detection such as Refractive Index (RI), Evaporative Light Scattering Detectors (ELSD) or Mass Spectrometry (MS). MediHerb uses ELSD detection to accurately quantify the levels of these therapeutically important phytochemicals. The other important group of phytochemicals from Ginkgo are the ginkgolic acids (C13:0, C15:1 and C17:1 on the third figure). These compounds have been identified as contact allergens. The maximum level of ginkgolic acids in Ginkgo bilobaextracts has been set by the European authorities at 5 ppm. Many poor quality extracts contain levels of ginkgolic acids which are many orders of magnitude higher than this recommended maximum.
Please consult the product packaging label for the most accurate product information.
Δ These statements have not been evaluated by the Food & Drug Administration. These products are not intended to diagnose, treat, cure or prevent any disease.