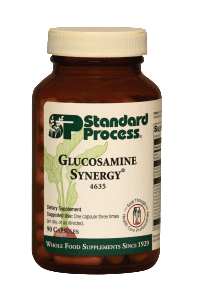 Fundamentals Product
Glucosamine Synergy combines Boswellia serrata with vitamins, minerals, and glucosamine to help maintain healthy joint function.
Maintains healthy connective tissue
Supports the body's normal connective-tissue repair process
Supports joint health
Contains many of the same ingredients as Ligaplex II, with the added benefit of glucosamine and boswellia for relieving discomfort in the affected areas†
Introduced in 2000
| Content | Product # |
| --- | --- |
| 90 Capsules | 4635 |
Suggested Use: One capsule three times per day, or as directed.
Serving Size: 1 Capsule
Supplement Facts
| Amount per Serving | | %DV |
| --- | --- | --- |
| Calories | 2 | |
| Manganese | 1 mg | 50% |
| Glucosamine Sulfate (from Crab Shells) | 500 mg | |
| Boswellia serrata (Stem/trunk) Extract (65-70% Organic Acids) | 60 mg | |
Proprietary Blend: 31 mgCalcium lactate, nutritional yeast, carbamide, bovine bone meal, veal bone PMG™ extract, bovine liver, defatted wheat (germ), bovine heart PMG™ extract, magnesium citrate, oat flour, inositol, carrot (root) powder, dried pea (vine) juice, Tillandsia usneoides, ribonucleic acid, beet (root) powder, bovine spleen, ovine spleen, bovine adrenal Cytosol™ extract, bovine kidney, mushroom powder, bovine liver fat extract, flaxseed oil extract, mixed tocopherols (soy), para-aminobenzoate, ascorbic acid, rice (bran), soybean lecithin, vitamin A palmitate, cellulose, cyanocobalamin, and cholecalciferol.
Gelatin, calcium stearate, manganese glycerophosphate, water, colors, arabic gum, starch, and sucrose (beets).
* Percent Daily Values are based on a 2,000 calorie diet.
Please consult the product packaging label for the most accurate product information.
† These statements have not been evaluated by the Food & Drug Administration. These products are not intended to diagnose, treat, cure or prevent any disease.