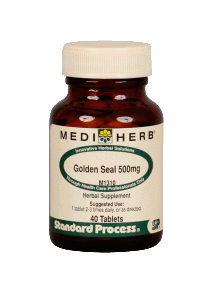 Golden Seal 500mg tablets contain alkaloids (especially hydrastine and berberine) and other phytochemicals which:
help maintain healthy mucus membranes
cleanse the gastrointestinal tract
assist in maintaining healthy breathing passages to support free and clear breathing
help maintain healthy mucus function
stimulate digestion
support the normal production and flow of bile
help support the body's response to environmental stress Δ
| Content | Product # |
| --- | --- |
| 40 Tablets | M1310 |
Suggested Use: 1 tablet 2 – 3 times daily, or as directed.
SERVING SIZE: 1 TABLET
SUPPLEMENT FACTS
Amount Per Serving
%DV
† Daily Value (DV) not established.
Calories
2
Calcium
40 mg
4%
Golden Seal root & rhizome 3:1 extract from Hydrastis canadensis root & rhizome 500 mg
166.7 mg
†
Other Ingredients
Calcium acid phosphate, cellulose, hypromellose, magnesium stearate, silica and sodium starch glycollate.
Caution: Contraindicated in pregnancy, lactation and patients with high blood pressure.
For other contraindications and cautions specific to this product, please refer to the Contraindications and Cautions for MediHerb Botanicals.
Golden Seal Quality
Golden Seal (Hydrastis canadensis) is an endangered herb and as a result is very expensive and often substituted by other herbs. The substituted herbs usually contain the substance berberine which provides the yellow color, but they do not contain hydrastine which is unique to Golden Seal. Only HPLC enables this differentiation to be made. MediHerb only buys cultivated Golden Seal to ensure long term sustainability of the herb. MediHerb tests each batch of Golden Seal raw material and finished product to ensure the claimed levels of hydrastine and berberine are present. Using HPLC, MediHerb is able to clearly differentiate true Golden Seal from other berberine-containing herbs. The table below demonstrates the difference between the various berberine-containing species. The top trace is an example of substitution where a professional product being sold in Australia as Indian Golden Seal matched the trace ofCoptis chinensis.
Please consult the product packaging label for the most accurate product information.
Δ These statements have not been evaluated by the Food & Drug Administration. These products are not intended to diagnose, treat, cure or prevent any disease.