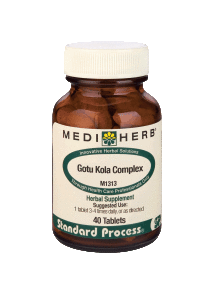 Gotu Kola Complex is a combination of Gotu Kola, Grape Seed andGinkgo biloba. These herbs contain pentacyclic triterpene ester saponins (especially asiaticoside), oligomeric procyanidins, flavonoids, terpene lactones (including ginkgolides, bilobalide) and other phytochemicals. All the herbs within this tablet have standardized levels of key phytochemicals to ensure optimal strength and quality. The Gotu Kola component is standardized to contain 50 mg of triterpenes per tablet, the Grape Seed contains 25.5 mg of procyanidins per tablet and the Ginkgo component contains 4.8 mg of ginkgo flavonglycosides (ginkgo flavone glycosides) and 1.2 mg of ginkgolides and bilobalide per tablet. Together these herbs and the compounds within them help to:
promote healthy skin and connective tissue
support the body's normal tissue repair process
promote normal development of connective and epithelial tissue, particularly during times of increased physical stress, e.g., athletic performance
promote healthy blood vessels
support stomach and duodenal tissue
provide antioxidant protection
promote the body's natural tissue drainage process ∆
| Content | Product # |
| --- | --- |
| 40 Tablets | M1313 |
Suggested Use: 1 tablet 3 – 4 times daily, or as directed.
SERVING SIZE: 1 TABLET
SUPPLEMENT FACTS
Amount Per Serving
%DV
† Daily Value (DV) not established.
Calories
3
Calcium
70 mg
7%
Gotu Kola herb 10:1 extract
from Centella asiatica herb 2.5 g
Containing triterpenes 50 mg
250 mg
†
Grape seed 120:1 extract
from Vitis vinifera seed 3.6 g Containing procyanidins 25.5 mg
30 mg
†
Ginkgo leaf 50:1 extract
from Ginkgo biloba leaf 1.0 g Containing ginkgo flavonglycosides 4.8 mg
Containing ginkgolides & bilobalide 1.2 mg
20 mg
†
Other Ingredients
Calcium acid phosphate, cellulose, sodium starch glycollate, magnesium stearate and hypromellose.
Caution: Contraindicated in known allergy to Gotu Kola. Not to be used during pregnancy and lactation unless otherwise directed by a qualified health care professional.
For other contraindications and cautions specific to this product, please refer to the Contraindications and Cautions for MediHerb Botanicals.
Please consult the product packaging label for the most accurate product information.
Δ These statements have not been evaluated by the Food & Drug Administration. These products are not intended to diagnose, treat, cure or prevent any disease.