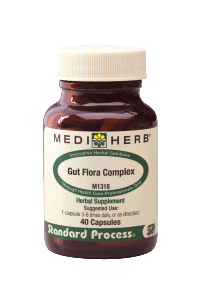 Gut Flora Complex contains Oregano essential oil, Anise (Aniseed) essential oil, Andrographis and Phellodendron. This combination of essential oils and herbs contains many compounds including monoterpenes (especially trans-anethole, carvacrol, thymol, gamma-terpinene, p-cymene), diterpenoid lactones (especially andrographolide) and alkaloids of the isoquinoline type (especially berberine). Each enteric coated capsule is standardized to contain 10 mg of andrographolide and 36 mg of berberine to ensure optimal strength and quality. Together these herbs, essential oils and the substances within them combine to:
cleanse and promote health in the lower gastrointestinal tract
encourage a healthy intestinal environment to help maintain proper intestinal flora
support healthy immune response
promote vitality and stamina Δ
| Content | Product # |
| --- | --- |
| 40 Capsules | M1318 |
Suggested Use: 1 capsule 3-6 times daily, or as directed. Enteric coated capsules. Do not break or crush.
SERVING SIZE: 1 CAPSULE
SUPPLEMENT FACTS
Amount Per Serving
%DV
† Daily Value (DV) not established.
Calories
5
Anise (Pimpinella anisum) fruit essential oil
125 mg
†
Andrographis herb 10:1 extract fromAndrographis paniculata herb 1.0 g Containing andrographolide 10 mg
100 mg
†
Phellodendron stem bark 20:1 extract from Phellodendron amurense stem bark 1.6 g
Containing berberine 36 mg
80 mg
†
Oregano (Origanum vulgare) leaf essential oil
75 mg
†
Other Ingredients
Gelatin, rice bran oil, glycerol, enteric coating, beeswax, purified water, lecithin, propylene glycol, emulsifiers and natural color.
Caution: Contraindicated in pregnancy and lactation.
Please consult the product packaging label for the most accurate product information.
Δ These statements have not been evaluated by the Food & Drug Administration. These products are not intended to diagnose, treat, cure or prevent any disease.