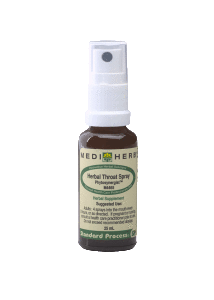 Herbal Throat Spray contains the following herbs: Marshmallow root, Sage, 
Echinacea angustifolia
 root, Calendula, Myrrh and Clove bud. This combination of herbs contains many phytochemicals including mucilage, essential oils (containing monoterpenes and sesquiterpenes, including eugenol), phenolic compounds, caffeic acid derivatives (especially echinacoside and cynarin), alkylamides, triterpenoid saponins, triterpene alcohols and their esters, flavonoids, sterols, carotenes and commiphoric acids and esters. Together these herbs and their constituents can help:
support healthy respiratory tissue and respiratory tract function
maintain healthy mucosal tissue in the upper respiratory and upper gastrointestinal tracts
promote healthy throat tissue
promote relaxation of muscle tissue in the upper respiratory and upper digestive tracts
promote oral health
promote the body's normal resistance function in normal persons
support the local immune system in the mouth and throat
soothe the throat
freshen breath Δ
| Content | Product # |
| --- | --- |
| 25 mL | M4465 |
Suggested Use: 4 sprays into the mouth every 1 – 2 hours, or as directed.
SERVING SIZE: 4 SPRAYS (500 MCL)
SUPPLEMENT FACTS
Amount Per Serving
%DV
† Daily Value (DV) not established.
Calories
1
Marshmallow root 1:5 glycetract
from Althaea officinalis root 40 mg
200 mcL
†
Sage herb 1:2 extract
from Salvia fruticosa herb 30 mg
60 mcL
†
Calendula flower 1:2 extract
from Calendula officinalis flower 10 mg
20 mcL
†
Echinacea root 1:2 extract
from Echinacea angustifolia root 10 mg
20 mcL
†
Myrrh resin 1:5 extract
from Commiphora molmol stem oleo-gum-resin 1 mg
5 mcL
†
Clove (Syzygium aromaticum) bud essential oil
1.25 mcL
†
Other Ingredients
Glycerol, menthol, propyl hydroxybenzoate, methyl hydroxybenzoate, purified water and 16.25% ethanol.
Caution: Contraindicated in known allergy to plants of the daisy family, and allergy to clove or eugenol. Not to be used during pregnancy and lactation unless otherwise directed by a qualified health care professional.
Please consult the product packaging label for the most accurate product information.
Δ These statements have not been evaluated by the Food & Drug Administration. These products are not intended to diagnose, treat, cure or prevent any disease.