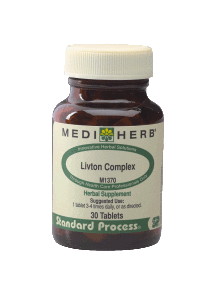 Livton Complex contains five herbs that helps support the digestive system. The herbs Globe Artichoke, Bupleurum, Dandelion Root, Milk Thistle and Fringe Tree contribute key phytochemicals to the blend such as sesquiterpene lactones, caffeic acid derivatives, flavonoids, phenolic acids, triterpenes, sterols, triterpenoid saponins (called saikosaponins), flavanolignans (collectively known as silymarin). The Milk Thistle component of this tablet is standardized to contain 80 mg per tablet of flavanolignans (calculated as silybin) to ensure optimal strength and quality. These herbs and the many compounds within them combine to:
support healthy liver and gallbladder function
support the normal processing of hormones in the body
encourage healthy digestive function
enhance healthy bowel function
encourage the healthy function of the organs of elimination
help maintain healthy blood ∆
| Content | Product # |
| --- | --- |
| 40 Tablets | M1372 |
| 120 Tablets | M1378 |
Suggested Use: 1 tablet 3 – 4 times daily, or as directed.
SERVING SIZE: 1 TABLET
SUPPLEMENT FACTS
Amount Per Serving
%DV
† Daily Value (DV) not established.
Calories
2
Calcium
40 mg
4%
Globe Artichoke leaf 4:1 extract fromCynara scolymus leaf 800 mg
200 mg
†
Dandelion root 4:1 extract fromTaraxacum officinale root 400 mg
100 mg
†
Milk Thistle fruit 70:1 extract fromSilybum marianum fruit 7.0 g Containing flavanolignans calculated as silybin 80 mg
100 mg
†
Bupleurum root 4.5:1 extract fromBupleurum falcatum root 300 mg
66.7 mg
†
Fringe Tree stem bark 5:1 extract fromChionanthus virginica stem bark 160 mg
32 mg
†
Other Ingredients
Calcium acid phosphate, cellulose, hypromellose, magnesium stearate, maltodextrin, silica and sodium starch glycollate.
Caution: Contraindicated in pregnancy. Contraindicated during lactation unless otherwise directed by a qualified health care professional. Contraindicated in blockage of the gallbladder. Use only with professional supervision in gallstones. In anemia and cases where iron supplementation is required, do not take simultaneously with meals or iron supplements.
For other contraindications and cautions specific to this product, please refer to the Contraindications and Cautions for MediHerb Botanicals.
Please consult the product packaging label for the most accurate product information.
Δ These statements have not been evaluated by the Food & Drug Administration. These products are not intended to diagnose, treat, cure or prevent any disease.