Mark Galloway one of the developers of the Asyra Pro demonstrates it's use.

The Asyra Pro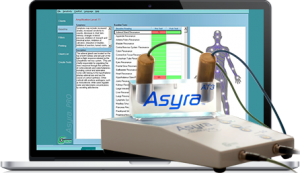 The Asyra Pro is the most advanced, flexible and user-friendly bio-energetic screening available today.
Indicating the energetic state of internal organs, food sensitivities, environmental sensitivities, nutritional needs, hormonal balance, toxin response and much more, whatever your approach to healthcare it can enhance your practice, improve patient outcomes and increase your revenue.
The main features of the Asyra include:
Probeless and non-invasive
Comprehensive health analysis in under five minutes
Fully customisable tests
Imprint your own remedies
Advanced, clear and easy-to-use software
Add your preferred supplements
Excellent training and support
Only five minutes testing with the Asyra Pro can form the basis of an in-depth consultation, helping you map out the most effective route to optimal health for your clients.
If you wish to improve your ability to get your patients back to the best of health and boost your earnings, then the Asyra could be the key. Click here to read more about the Asyra Pro.