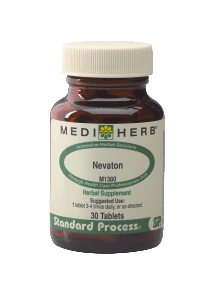 The blend of herbs in Nevaton offer nervous system and digestive support. St John's Wort, Schisandra, Damiana and Skullcap provide a wide range of phytochemicals including the naphthodianthrones hypericin and pseudohypericin (hypericins), flavonoids, phenolics, dibenzocyclooctene lignans, sesquiterpenes, monoterpenes and other compounds. The St John's Wort component of this tablet is standardized to contain 375 mcg per tablet of hypericins to ensure optimal strength and quality. Nevaton can help to:
calm the nerves and restore balance in temporary mood swings
support healthy nervous system response
support healthy digestive function
encourage balance between the body and mind
ease the effects of occasional stress
provide support and maintenance of the liver ∆
| Content | Product # |
| --- | --- |
| 30 Tablets | M1380 |
Suggested Use: 1 tablet 3 – 4 times daily, or as directed.
SERVING SIZE: 1 TABLET
SUPPLEMENT FACTS
Amount Per Serving
%DV
† Daily Value (DV) not established.
Calories
3
Calcium
40 mg
4%
Schisandra fruit 4:1 extract
from Schisandra chinensis fruit 675 mg
168.8 mg
†
Damiana leaf 4:1 extract from Turnera diffusa leaf 625 mg
156.3 mg
†
Skullcap herb 4:1 extract fromScutellaria lateriflora herb 500 mg
125 mg
†
St John's Wort herb flowering top 6:1 extract from Hypericum perforatumherb flowering top 750 mg Containing hypericins 375 mcg
125 mg
†
Other Ingredients
Calcium acid phosphate, cellulose, hypromellose, maltodextrin, magnesium stearate, silica and sodium starch glycollate.
Caution: Not to be used during pregnancy and lactation unless otherwise directed by a qualified health care professional. Do not use this product while taking any prescription drug(s) without the advice of your prescribing physician. Avoid excessive exposure to UV irradiation (e.g. sunlight, tanning) when using this product.
For other contraindications and cautions specific to this product, please refer to the Contraindications and Cautions for MediHerb Botanicals.
Please consult the product packaging label for the most accurate product information.
Δ These statements have not been evaluated by the Food & Drug Administration. These products are not intended to diagnose, treat, cure or prevent any disease.