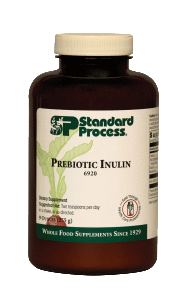 Prebiotic Inulin supports bone health, immune function, and gut balance.
Encourages a healthy intestinal environment to benefit probiotic intestinal flora
Promotes normal development of epithelial tissue
Supports absorption of calcium and magnesium
Excellent source of fiber
Supports immune cell function and antibody production in the gut
Promotes a healthy pH in the lower gastrointestinal tract
Promotes healthy elimination
Can be mixed in a supplement shake or added to foods†
Introduced in 2009
| Content | Product # |
| --- | --- |
| 9 Ounces (255g) | 6920 |
Suggested Use: Two teaspoons per day in a shake, or as directed.
* Percent Daily Values are based on a 2,000 calorie diet.
Please consult the product packaging label for the most accurate product information.
† These statements have not been evaluated by the Food & Drug Administration. These products are not intended to diagnose, treat, cure or prevent any disease.