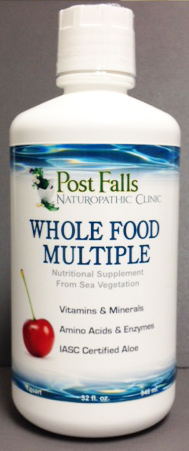 Whole Food Multiple is an amazing multivitamin blend of whole foods designed to provide the vitamins, minerals, trace minerals, and amino acids your body deserves. The base of pure Aloe Vera juice is loaded with digestive enzymes, and Eleuthero packs an energetic punch. Sea vegetables - dubbed nature's perfect food - provide most of the nutrient in this well-rounded formula. Honey is an excellent sweetener, known for its energizing effects and b-complex vitamins. Our Aloe Vera juice is cold-pressed, leaving the nutrients intact and the enzymes active. Because Whole Food Multiple is a whole food and liquid, there is no product with a higher absorption rate. If you are a person who has problems with supplements disagreeing with your system, you may find the whole food qualities of Whole Food Multiple to be what you need. Intended for use by anyone who needs a good multivitamin.
Liquid Nutritional Supplement Facts

Whole Food Multiple Serving size 1 oz. Directions: Shake well. Refrigerate after opening. Some settling is normal. Protect from heat, light, & moisture. As with any natural product, color and taste may vary. Recommended Use: 1 oz. Daily
Amount per 1 oz.
% Daily Value†
Calories
8
Fat
0 g
Total Carbohydrates
3 g
1%
Natural Sugars
2 g
1%
Sodium
20 mg
1%
Folic Acid
400 mcg
100%
Proprietary Blend
16 ml
**
Aloe Vera (Aloe Bardensis -leaf inner gel)
Wild Cherry Juice
Proprietary Blend
2.3 g
**
Honey, Whole Food Sea Vegetation Blend: Cultivated Seaweed (Alaria Valida, Costaria Costata, Fucus Gardneri, Gigartina, Laminaria, Nereocystis Luetkeana, Rhodymenia Pertusa, Ulva Latuca, Ulva Linza) Lithothamnium, Eleuthero (Eleutherococcus senticosus) 0.8% total Eleutherosides
Other Ingredients: Purified Water, Citric Acid, Natural Flavoring, Potassium Sorbate (to preserve freshness), Potassium Benzoate (to preserve freshness)
NUTRIENTS & ELEMENTS Vitamin A, B1 (Thiamine), B2 (Riboflavin), B3 (Niacin), B5 (Pantothenic Acid), B6, B12, Biotin, Folic Acid, Vitamin C, D & E MACRO MINERALS Calcium, Magnesium, Potassium, Phosphorus TRACE MINERALS Antimony Barium Beryllium Bismuth Boron Bromine Cadmium Calcium Carbon Cerium Cesium Chloride Chromium Cobalt Copper Dysprosium Erbium Europium Fluoride Gadolinium Gallium Germanium Gold Hafnium Holmium Indium Iodine Iridium Iron Lanthanum Lithium Lutetium Magnesium Manganese Molybdenum Neodymium Nickel Niobium Osmium Palladium Phosphorous Platinum Potassium Praseodymium Rhenium Rhodium Rubidium Ruthenium Samerium Scandium Selenium Silicon Silver Sodium Strontium Sulfur Tantalum Tellurium Terbium Thallium Thorium Thulium Tin Titanium Tungsten Vanadium Ytterbium Yttrium Zinc Zirconium ENZYMES protease, amylase, lipase AMINO ACIDS Alanine, Arginine*, Aspartic Acid, Cystine, Glutamic Acid, Glycine, Histidine, Isoleucine*, Leucine*, Lysine*, Methionine*, Phenylalanine*, Proline, Serine, Threonine*, Tyrosine*, Valine* *Essential
† Based on a 2000 calorie diet ** Daily Value Not EstablishedMADE IN THE USA100% VEGETARIANCONTAINS NO STARCH, SALT, WHEAT, GLUTEN, YEAST, MILK OR SOY DERIVATIVES THESE STATEMENTS HAVE NOT BEEN EVALUATED BY THE FDA. THIS PRODUCT IS A DIETARY SUPPLEMENT AND IS NOT INTENDED TO DIAGNOSE, TREAT , CURE, OR PREVENT ANY DISEASE.