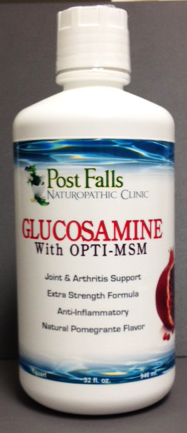 - Superior Value
- Lasts up to 2x longer than our original formula
- Has 62% more glucosamine
- Has 50% more chondroitin
- New great berry/pomegranate flavor
- Contains Opti-MSM
 Ultra-purified and distilled to provide the purest form of sulfur needed for structural integrity of joint cartilage.

Standard MSM is tested for lead, arsenic, cadmium, and mercury at 10ppm. OptiMSM is tested at 1,000 to 10,000 times greater sensitivity to insure less than 0.01 ppm to .001 of these contaminants.
- Contains Pomegranate Extract which can block harmful enzymes.
( according to a Case Western Reserve University School of Medicine study published in the September 2005 issue of the Journal of 

Nutrition

. The study looked at the ability of an extract of pomegranate fruit against Interleukin-1b (IL-1b), a pro-inflammatory protein molecule that plays a

key role in cartilage degradation in osteoarthritis.) Intended for use by those suffering from arthritis and joint pain. 
Liquid Vitamin Supplement Facts

Glucosamine with Opti-MSM Serving Size: 1 oz. Directions: Shake well. Refrigerate after opening. Some settling is normal. Protect from heat, light, & moisture. As with any natural product, color and taste may vary. Recommended Use: 1 fl. oz. daily
Amount per 1 oz.
% Daily Value†
Glucosamine Hcl 99% USP
1600 mg
**
Chondroitin Sulfate
1200 mg
**
Methyl-sulfonylmethane (OptiMSM® brand)
1000 mg
**
Pomegranate Extract 4:1 (punica granatum)
75 mg
**
Other Ingredients: 100% Pure Aloe Vera Juice, Purified Water, Vegetable Glycerin USP, Citric Acid, Malic Acid, Natural Flavoring, Lycopene, Potassium Benzoate (less than 0.1%), Potassium Sorbate (less than 0.1%).
† Based on a 2000 calorie diet ** Daily Value Not EstablishedCONTAINS NO SUGAR, STARCH, SALT, WHEAT, GLUTEN, YEAST, OR MILK DERIVATIVESCONTAINS SHELLFISH CONTAINS SOY THESE STATEMENTS HAVE NOT BEEN EVALUATED BY THE FDA. THIS PRODUCT IS A DIETARY SUPPLEMENT AND IS NOT INTENDED TO DIAGNOSE, TREAT , CURE, OR PREVENT ANY DISEASE.  MADE IN THE USA OptiMSM® is a registered trademark of Bergstrom Nutrition