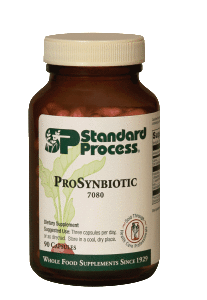 Fundamentals Product
ProSynbiotic is a synergistic blend of four research-supported probiotic strains and two prebiotic fibers to support gut flora and overall intestinal health.
Contains research-supported strains of lactic acid bacteria (Lactobacillus and Bifidobacteria), and Saccharomyces cerevisiae var. boulardii
Contains inulin, a nondigestible, soluble fiber from chicory root and galactooligosaccharide (GOS), a nondigestible carbohydrate, both of which are used by probiotic bacteria as food
Useful in maintaining a healthy gut microbial environment
Contributes to absorption of calcium and magnesium
Improves nutrient digestion/absorption
Supports normal bowel regularity and consistency
Supports the body's natural immune response†
Introduced in 2010
| Content | Product # |
| --- | --- |
| 90 Capsules | 7080 |
Suggested Use: Three capsules per day, or as directed.
Serving Size: 3 Capsules
Supplement Facts
Amount per Serving
%DV
Calorie
8
Total Carbohydrate
1.8 g
<1%*
Probiotic Blend
280 mg
S. boulardii, L. paracasei, L.casei 431®, L. acidophilus, LA-5®, and Bifidobacterium, BB-12® (4 billion cfu).
Inulin
1 g
Galactooligosaccharide (GOS) (milk)
100 mg
Other Ingredients
Maltodextrin, gelatin, water, colors, calcium stearate, and sorbitan monostearate.
Special Information: Store in a cool, dry place. Although research varies, our strains seem to work best when taken after a meal.
* Percent Daily Values are based on a 2,000 calorie diet.
Please consult the product packaging label for the most accurate product information.
† These statements have not been evaluated by the Food & Drug Administration. These products are not intended to diagnose, treat, cure or prevent any disease.