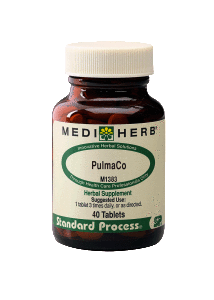 The combination of herbs in PulmaCo contain many compounds including alkaloids (such as vasicine), flavonoids, terpene lactones, sesquiterpene ketones, curcuminoids, diterpenoid acids, phenolic acids, anethole and fenchone. This product is standardized to contain 38 mg of curcuminoids and 4.8 mg of ginkgo flavonglycosides (ginkgo flavone glycosides) per tablet to ensure optimal strength and quality. This formulation and its constituents can help to:
assist in maintaining healthy breathing passages to support free and clear breathing
support the body's natural ability to break up and expel respiratory secretions
support healthy respiratory tract function ∆
| Content | Product # |
| --- | --- |
| 40 Tablets | M1383 |
Suggested Use: 1 tablet 3 times daily, or as directed.
SERVING SIZE: 1 TABLET
SUPPLEMENT FACTS
Amount Per Serving
%DV
† Daily Value (DV) not established.
Calories
3
Calcium
40 mg
4%
Chinese Skullcap root 3:1 extract
from Scutellaria baicalensis root 500 mg
166.7 mg
†
Malabar Nut Tree leaf 5:1 extract
from Adhatoda vasica leaf 750 mg
150 mg
†
Grindelia herb 4:1 extract
from Grindelia camporum herb 300 mg
75 mg
†
Turmeric rhizome 25:1 extract
from Curcuma longa rhizome 1.0 g
Containing curcuminoids 38 mg
40 mg
†
Ginkgo leaf 50:1 extract
from Ginkgo biloba leaf 1.0 g
Containing ginkgo flavonglycosides 4.8 mg
20 mg
†
Fennel (Foeniculum vulgare) seed essential oil
5 mg
†
Other Ingredients
Cellulose, calcium acid phosphate, silica, sodium starch glycollate, hypromellose and magnesium stearate.
Caution: Contraindicated in pregnancy and lactation.