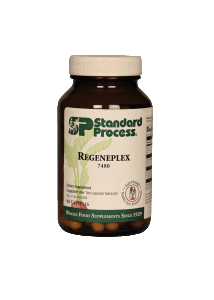 Regeneplex is a clinically studied systemic skin health product that works from the inside out. By combining key ingredients from whole foods with complementary ingredients, this formula synergistically supports the body's natural tissue-healing processes associated with the normal effects of aging.
Targets all three layers of skin, the circulatory and digestive systems, and cellular structure and functions
Provides a supportive nutritional foundation for healthy skin
Supports skin elasticity, luminance, and appearance while helping address fine lines around the eyes
Provides support for cellular rejuvenation from carotenoids, buckwheat, zinc, B vitamins, vitamin C, and tuna oil*
Introduced in 2013
| Content | Product # |
| --- | --- |
| 90 Capsules | 7480 |
Suggested Use: Two capsules twice per day, or as directed.
Serving Size: 2 Capsules
Supplement Facts
| Amount per Serving | | %DV |
| --- | --- | --- |
| Calories | 5 | |
| Vitamin C | 20 mg | 30% |
| Zinc | 2.0 mg | 10% |
| Coenzyme Q10 (CoQ10) | 15 mg | |
| Choline | 10 mg | |
| Lutein | 3.5 mg | |
Proprietary Blend: 750 mgBuckwheat leaf, B-complex blend (guava, holy basil, and lemon extracts), soybean lecithin powder, dried buckwheat leaf juice, and tuna oil.
Other Ingredients
Gelatin, camu camu, choline bitartrate, food starch, dried glucose syrup, manioc root, CoQ10, zinc rice chelate, water, sodium caseinate, dextrose, mixed carotenoids, corn starch, sodium ascorbate, mixed tocopherols (soy), lutein (Tagetes erecta ), colors, ascorbyl palmitate, sucrose, and palm oil.
Caution: This product is processed in a facility that manufactures other products containing soy, milk, egg, wheat, peanut, tree nuts, fish, and shellfish.
* Percent Daily Values are based on a 2,000 calorie diet.
Please consult the product packaging label for the most accurate product information.
† These statements have not been evaluated by the Food & Drug Administration. These products are not intended to diagnose, treat, cure or prevent any disease.