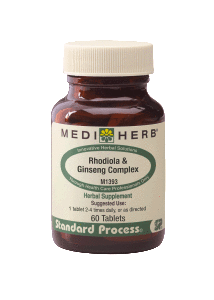 Rhodiola & Ginseng Complex contains Rhodiola and Korean Ginseng, a combination which contains many compounds including phenylpropanoids such as rosarin, rosavin and rosin (rosavins), salidroside (a hydroxyphenethyl glucoside), and a complex mixture of steroidal saponins (called ginsenosides). This product is standardized to contain 4.5 mg of rosavins, 1.5 mg of salidroside and 8.4 mg of ginsenosides (Rb2 to Rb1 is NLT 0.4 by HPLC) per tablet to ensure optimal strength and quality. Together these herbs and the substances within them combine to:
enhance mental clarity and support cognitive function
promote vitality and stamina
help maintain proper energy
support physical endurance
maintain feelings of general well-being when experiencing temporary stress
help the body adapt to the changes of everyday life
support and maintain the body as it ages
support the body's natural defenses against emotional and environmental stressors Δ
| Content | Product # |
| --- | --- |
| 60 Tablets | M1393 |
Suggested Use: 1 tablet 2 – 4 times daily, or as directed
SERVING SIZE: 1 TABLET
SUPPLEMENT FACTS
Amount Per Serving
%DV
† Daily Value (DV) not established.
Calories
1
Calcium
45 mg
4%
Rhodiola root 20:1 extract
from Rhodiola rosea root 3.0 g Containing rosavins 4.5 mg and salidroside 1.5 mg
150 mg
†
Korean Ginseng root 5:1 extract
from Panax ginseng root 500 mg Containing ginsenosides 8.4 mg Rb2 to Rb1 is NLT 0.4 by HPLC
100 mg
†
Other Ingredients
Cellulose, calcium acid phosphate, sodium starch glycollate, hypromellose and magnesium stearate.
Caution: Not to be used during pregnancy and lactation unless otherwise directed by by a qualified health care professional. Discontinue during an acute infection or fever.
For other contraindications and cautions specific to this product, please refer to the Contraindications and Cautions for MediHerb Botanicals.
Rhodiola and Korean Ginseng Quality
Rhodiola rosea (Sedum roseum) is commonly referred to as Golden Root or Roseroot and grows in dry sandy ground at high altitudes in the arctic regions of Europe and Asia. The freshly cut root has a rose-like odor that has led to its botanical name and one of its common names. The root has been used for centuries in the traditional medicines of Russia and Scandinavia. There are however 16 common species of Rhodiola growing in the Eurasian area. Of these, 11 have been tested in animal studies, but only R. rosea(17 studies) and R. crenulata (1) have been assessed in human trials.
Most of the Rhodiola species have been reported to contain the marker compound salidroside and this was originally used to standardize extracts of Rhodiola rosea. After more than a decade of research, however, it was shown that the chemical composition of R. rosea root is, in fact, different to the other species of the genus Rhodiola. Using newly developed methods of analysis, it was shown that R. rosea root contains three cinnamyl alcohol-vicianosides: rosavin, rosin, and rosarin that are specific to this species. They are collectively termed rosavins. HPLC offers a ready method to differentiate true Rhodiola rosea from the other species offered on the market. The two major rosavins found are rosavin and rosarin, with only very low quantities of rosin.
Korean Ginseng Quality
Panax ginseng is a widely used and misunderstood herb. Traditionally the main root of the plant has been preferred for therapeutic use. The other parts of the plant such as the root hairs, leaves, leafstalks ,etc., are considered inferior and are never used medicinally in the East. However, many herb traders will sell the other plant parts as they are substantially cheaper than the main root. The major marker compounds used to characterize Panax ginseng are the ginsenosides which occur in all parts of the plant and if you were to only consider total ginsenosides the main root is not the highest in content. The importance is in the ratio of specific ginsenosides. The European clinical studies were undertaken on extracts manufactured from the main root of Panax ginseng which have a particular ratio of ginsenosides. To achieve the clinical results obtained traditionally and supported by clinical trials it is important to use raw material from the correct plant part and the correct species. This is readily acheivable using HPLC which easily distinguishes the different preparations.
% Content
Rg1
Re
Rf
Rg2
Rb1
Rc
Rb2
Rd
Total
Leaves
1.078
1.524
—
—
0.184
0.736
0.553
1.113
5.188
Leafstalks
0.327
0.141
—
—
—
0.190
—
0.107
0.765
Stem
0.292
0.070
—
—
—
—
0.397
—
0.759
Main root
0.379
0.153
0.092
0.023
0.342
0.190
0.131
0.038
1.348
Lateral roots
0.406
0.668
0.203
0.090
0.850
0.738
0.434
0.143
3.532
Root hairs
0.376
1.512
0.150
0.249
1.351
1.349
0.780
0.381
6.148
Please consult the product packaging label for the most accurate product information.
Δ These statements have not been evaluated by the Food & Drug Administration. These products are not intended to diagnose, treat, cure or prevent any disease.