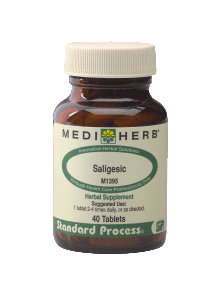 Saligesic contains phenolic glycosides (including salicin), flavonoids and other phenolic compounds. Saligesic is standardized to contain not less than 60 mg of salicin per tablet to ensure optimal strength and quality. The compounds work together to:
support musculoskeletal system health
promote relaxation in muscle tissue
maintain and support healthy joints
ease the discomfort caused by exercise related aches and pains
support and maintain normal body temperature within a normal range
promote the body's normal immune and resistance function
promote vitality and stamina ∆
| Content | Product # |
| --- | --- |
| 40 Tablets | M1395 |
Suggested Use: 1 tablet 2 – 4 times daily, or as directed.
SERVING SIZE: 1 TABLET
SUPPLEMENT FACTS
Amount Per Serving
%DV
† Daily Value (DV) not established.
Calories
3
Calcium
30 mg
3%
Willow stem bark 20:1 extract
from Salix purpurea stem bark 8.0 g
Containing salicin 60 mg
400 mg
†
Other Ingredients
Calcium acid phosphate, cellulose, sodium starch glycollate, silicon dioxide, maltodextrin, magnesium stearate and hypromellose.
Caution: Contraindicated in known allergy or sensitivity to salicylates. Not to be used during pregnancy and lactation unless otherwise directed by a qualified health care professional.
For other contraindications and cautions specific to this product, please refer to the Contraindications and Cautions for MediHerb Botanicals.
Willow Bark Quality
Willow Bark has been used for thousands of years to support musculoskeletal system health, but in recent times had fallen from favor due to inconsistent therapeutic outcomes. Recent European clinical trials however, using a particular type of Willow Bark extract have demonstrated excellent results. The Willow Bark extracts used in the clinical trials were standardized to the marker compound salicin, however there are other salicin esters in Willow Bark such as salicortin, 2′-O-acetylsalicortin, fragilin and tremulacin, together with other components which are important for this herb. MediHerb Saligesic contains the extract used in the European clinical trials.
Please consult the product packaging label for the most accurate product information.
Δ These statements have not been evaluated by the Food & Drug Administration. These products are not intended to diagnose, treat, cure or prevent any disease.