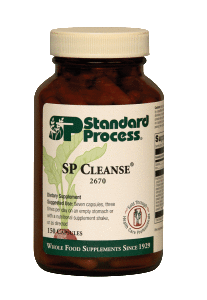 SP Cleanse combines 20 unique whole food and botanical ingredients designed to support the body's normal toxin removal processes.
Supports healthy kidney, liver, and gallbladder function
Encourages healthy digestive function
Supports the normal elimination of toxins
Promotes healthy elimination†
Introduced in 2002
| Content | Product # |
| --- | --- |
| 150 Capsules | 2670 |
Suggested Use: Seven capsules, three times per day on an empty stomach or with a nutritional supplement shake, or as directed.
Serving Size: 7 Capsules
Supplement Facts
| Amount Per Serving | | %DV |
| --- | --- | --- |
| Calories | 12 | |
| Iron | 0.5 mg | 2% |
Proprietary Blend: 3,080 mgJuniper berry powder (Juniperus communis), red clover (flower) powder (Trifolium pratense), collinsonia (root) powder, apple pectin, burdock (root) powder (Arctium lappa), barley (grass) powder, dandelion (leaf) (Taraxacum officinale), beet (root), Spanish black radish (root), Oregon grape (root) powder (Berberis aquifolium), cayenne pepper powder (Capsicum annuum), fenugreek (seed) powder, choline bitartrate, inositol, globe artichoke (leaf) (Cynara scolymus)†, fennel (seed), milk thistle (Silybum marianum) (80% silymarins), Tillandsia usneoides, broccoli (whole plant) powder, kale (whole plant) powder, carrot (root) powder, and sweet potato.
Other Ingredients
Cellulose, water, and calcium stearate.
Caution: Not to be used during pregnancy and lactation unless otherwise directed by a qualified health care professional. Not for long-term use except under the direction of a qualified health care professional. If you are taking any prescription drugs, consult with your health care professional prior to use.
Warning: Accidental overdose of iron-containing products is a leading cause of fatal poisoning in children under 6. Keep this product out of reach of children. In case of accidental overdose, call a doctor or poison control center immediately.
* Percent Daily Values are based on a 2,000 calorie diet.
Please consult the product packaging label for the most accurate product information.
† These statements have not been evaluated by the Food & Drug Administration. These products are not intended to diagnose, treat, cure or prevent any disease.