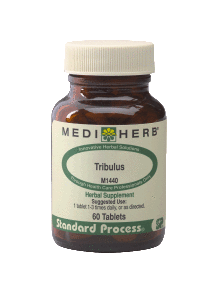 Tribulus contains an extract of 
Tribulus terrestris
 herb (aerial parts – leaves and stems) and contains steroidal saponins, mainly furostanol glycosides (including protodioscin and protogracillin) and small quantities of spirostanol glycosides, sterols and other compounds. This product is standardized to contain 100 mg per tablet of furostanol saponins to ensure optimal strength and quality. The compounds in Tribulus work together to:
support normal reproductive function in men and women
support normal hormone production in men and women
promote vitality and stamina
support physical endurance
promote an overall feeling of well-being ∆
| Content | Product # |
| --- | --- |
| 40 Tablets | M1445 |
Suggested Use: 1 tablet 1 – 3 times daily, or as directed.
SERVING SIZE: 1 TABLET
SUPPLEMENT FACTS
Amount Per Serving
%DV
† Daily Value (DV) not established.
Calories
2
Calcium
80 mg
8%
Tribulus herb (aerial parts) 55:1 extract from Tribulus terrestris herb (aerial parts) 13.5 g
Containing furostanol saponins as protodioscin 100 mg
245 mg
†
Other Ingredients
Cellulose, calcium acid phosphate, sodium starch glycollate, hypromellose, silica and magnesium stearate.
Caution: Not to be used during pregnancy and lactation unless otherwise directed by a qualified health care professional.
For other contraindications and cautions specific to this product, please refer to the Contraindications and Cautions for MediHerb Botanicals.
Tribulus Quality
Tribulus terrestris is an herb which is endemic to many different geographical zones, from the Mediterranean regions, India, China, South Africa and Australia. Research undertaken by MediHerb has shown that the phytochemical profile of the herb varies depending upon the geographical origin and the plant part utilized. Only Tribulus sourced from the Central European regions of Bulgaria and Slovakia have been found to contain protodioscin, which is an important indicator of quality and efficacy. Additionally only the leaves and stem of the plant contain protodioscin, the fruit does not contain this phytochemical. MediHerb has undertaken this research to ensure that our Tribulus product is of the correct phytochemical profile to ensure phytoequivalence with the Bulgarian clinical trials and therefore optimal therapeutic outcome.
Please consult the product packaging label for the most accurate product information.
Δ These statements have not been evaluated by the Food & Drug Administration. These products are not intended to diagnose, treat, cure or prevent any disease.