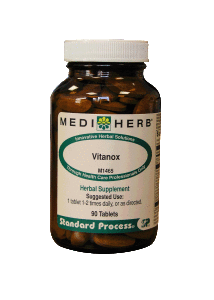 Vitanox contains a synergistic blend of herbs which provide strong antioxidant protection. The herbs Rosemary, Green Tea, Turmeric and Grape Seed provide phenolic diterpenes (including carnosol and rosmarinic acid), polyphenols including epigallocatechin gallate, essential oils containing sesquiterpenes, yellow pigments referred to as diarylheptanoids (including curcumin), flavonoids, triterpenoids and oligomeric procyanidins. This product is standardized to contain 83.35 mg of catechins, 70.4 mg of curcuminoids and 42.5 mg of procyanidins in each tablet to ensure optimal strength and quality. The natural substances in Vitanox:
provide strong antioxidant protection
support healthy circulation and vascular integrity
maintain healthy connective tissue
support and maintain cellular health ∆
| Content | Product # |
| --- | --- |
| 40 Tablets | M1462 |
| 120 Tablets | M1468 |
Suggested Use: 1 tablet 1 – 2 times daily, or as directed.
SERVING SIZE: 1 TABLET
SUPPLEMENT FACTS
Amount Per Serving
%DV
† Daily Value (DV) not established.
Calories
3
Calcium
40 mg
4%
Rosemary leaf 5:1 extract
from Rosmarinus officinalis leaf 1.0 g
200 mg
†
Green Tea leaf 25:1 extract fromCamellia sinensis leaf 4.2 g
Containing catechins 83.35 mg
166.7 mg
†
Turmeric rhizome 25:1 extract fromCurcuma longa rhizome 2.0 g
Containing curcuminoids 70.4 mg
80 mg
†
Grape seed 120:1 extract from Vitis vinifera seed 6.0 g
Containing procyanidins 42.5 mg
50 mg
†
Other Ingredients
Cellulose, calcium acid phosphate, maltodextrin, sodium starch glycollate, silica, sorbitol, hypromellose and magnesium stearate.
Caution: Contraindicated in pregnancy. Contraindicated during lactation unless otherwise directed by a qualified health care professional. Contraindicated in blockage of the gallbladder. Use only with professional supervision in the presence of gallstones. In anemia and cases where iron supplementation is required, do not take simultaneously with meals or iron supplements.
For other contraindications and cautions specific to this product, please refer to the Contraindications and Cautions for MediHerb Botanicals.
Please consult the product packaging label for the most accurate product information.
Δ These statements have not been evaluated by the Food & Drug Administration. These products are not intended to diagnose, treat, cure or prevent any disease.