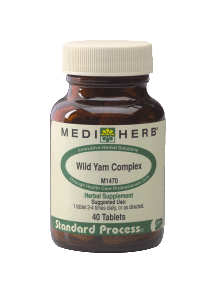 Wild Yam Complex contains Wild Yam, Black Cohosh, Shatavari, Korean Ginseng, St John's Wort and Sage. This combination of herbs contains many compounds including steroidal saponins (such as shatavarin-I and dioscin), ginsenosides, an essential oil (containing monoterpenes, including thujone), triterpene glycosides, phenolic compounds (such as rosmarinic acid), naphthodianthrones hypericin and pseudohypericin (hypericins), flavonoids and phenolics. This tablet contains two herbs with standardized levels of key phytochemicals to ensure optimal strength and quality. The St John's Wort component of this tablet is standardized to contain 300 mcg of hypericins per tablet, and the Korean Ginseng component contains 1.3 mg per tablet of ginsenosides (Rb2 to Rb1is NLT by HPLC). Wild Yam Complex can help to:
provide relief from discomfort associated with menopause
promote a natural, healthy balance within the mature female endocrine system
maintain feelings of general well-being
balance and support normal female physiology and function
calm the nerves and restore balance in temporary mood swings
provide antispasmodic activity to ease occasional spasms of smooth muscle including those associated with the menstrual cycle Δ
| Content | Product # |
| --- | --- |
| 40 Tablets | M1470 |
| 120 Tablets | M1475 |
Suggested Use: 1 tablet 3 – 4 times daily, or as directed.
SERVING SIZE: 1 TABLET
SUPPLEMENT FACTS
Amount Per Serving
%DV
† Daily Value (DV) not established.
Calories
2
Calcium
19 mg
2%
Wild Yam root & rhizome 4:1 extract from Dioscorea villosa root & rhizome 400 mg
100mg
†
Shatavari root 4:1 extract fromAsparagus racemosus root 400 mg
100mg
†
St John's Wort herb flowering top 6:1 extract from Hypericum perforatumherb flowering top 600 mg
Containing hypericins 300 mcg
100 mg
†
Sage herb 5:1 extract from Salvia fruticosa herb 290 mg
58 mg
†
Black Cohosh root 5:1 extract fromCimicifuga racemosa root 100 mg
20 mg
†
Korean Ginseng root 5:1 extract fromPanax ginseng root 75 mg
Containing ginsenosides 1.3 mg Rb2 to Rb1 is NLT 0.4 by HPLC
15 mg
†
Other Ingredients
Cellulose, calcium acid phosphate, sodium starch glycollate, silica, hypromellose, magnesium stearate and glucose.
Caution: Contraindicated in pregnancy . Contraindicated during lactation unless otherwise directed by a qualified health care professional. Discontinue during an acute infection or fever. Caution in patients with liver problems, who frequently use alcohol or take any medications. Do not use this product while taking any prescription drug(s) without the advice of your prescribing physician. Avoid excessive exposure to UV irradiation (e.g., sunlight, tanning) when using this product.
For other contraindications and cautions specific to this product, please refer to the Contraindications and Cautions for MediHerb Botanicals.
Wild Yam Quality
There are some 600 species of Yam in the genus Dioscorea, many of them are wild species that flourish in damp woodlands and thickets. Dioscorea villosa, also known as Colic Root or Wild Yam, is a twining, tuberous vine native to eastern North America. The roots initially taste starchy, but soon after are bitter and acrid, nothing like the taste of Yam or Sweet Potato grown for the dinner table. Commercial Wild Yam extracts available for use as raw materials are often notDioscorea villosa but instead Dioscorea opposita (Chinese Yam Root) which has a different phytochemical profile.
It is widely misconstrued that Dioscorea villosa contains diosgenin and many products have this as a statement on their labels. However it does not contain diosgenin, but rather the diosgenin precursors. Traditionally Dioscorea villosa was believed to contain predominantly dioscin, however, the origin of this assignment is unclear (dioscin is a steroidal glycoside precursor of diosgenin). The phytochemical profile of Wild Yam is poorly-defined and based on scientific literature from the 1940s. MediHerb undertook a project in conjunction with Associate Professor James De Voss, Chemistry Department, from the University of Queensland, Australia to investigate the phytochemistry. Commercially available Dioscorea villosa is in the form of dried roots, usually harvested at the end of summer or fall when the plant is dying back to its rootstock. It was found that these roots contained only very small amounts of dioscin, not the predominance as previously thought. The major saponin found in the fall harvested roots were in fact the furostanol-based saponins, methylparvifloside and methylprotodeltonin, while the spirostanol-based saponins, Zingiberensis saponin I and deltonin were the major saponins for samples harvested in summer. The storage saponins from the fall differ from the summer saponins by the presence of an extra glucose at the C-26 position of the diosgenin base structure. The two main compounds found in commercial material – harvested in the fall – are significantly different from dioscin by having an extra one or two glucose residues in methylprotodeltonin and methylparvifloside respectively. All of these compounds have been reported from other Disocorea species, however, the profile of saponins was different in the other species.
Please consult the product packaging label for the most accurate product information.
Δ These statements have not been evaluated by the Food & Drug Administration. These products are not intended to diagnose, treat, cure or prevent any disease.