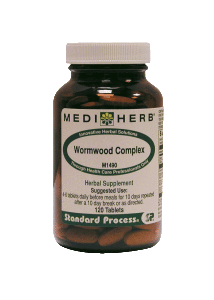 Wormwood Complex contains the following herbs: Wormwood, Black Walnut hulls, Stemona root and Clove Bud essential oil. This combination of herbs and essential oil contains many phytochemicals including sesquiterpene lactones, terpenes, thujone, 1,4-naphthoquinones, alkaloids, flavonoids, tannins, and phenolic acids. Wormwood Complex can help to:
support healthy bowel function
cleanse the gastrointestinal tract
stimulate digestion
encourage a healthy intestinal environment to help maintain proper gastrointestinal
flora ∆
| Content | Product # |
| --- | --- |
| 120 Tablets | M1490 |
Suggested Use: 2 tablets 2 – 3 times daily, or as directed.
SERVING SIZE: 1 TABLET
SUPPLEMENT FACTS
Amount Per Serving
%DV
† Daily Value (DV) not established.
Calories
2
Calcium
18 mg
2%
Stemona root 5:1 extract
from Stemona sessilifolia root 1.0 g
200 mg
†
Black Walnut green hulls 4:1 extract
from Juglans nigra green hulls 100 mg
25 mg
†
Wormwood herb 4:1 extract
from Artemisia absinthium herb 100 mg
25 mg
†
Clove bud (Syzygium aromaticum) essential oil
20 mg
†
Other Ingredients
Cellulose, silica, calcium acid phosphate, sodium starch glycollate, hypromellose and magnesium stearate.
Caution: Contraindicated in pregnancy and lactation.
For other contraindications and cautions specific to this product, please refer to the Contraindications and Cautions for MediHerb Botanicals.
Please consult the product packaging label for the most accurate product information.
Δ These statements have not been evaluated by the Food & Drug Administration. These products are not intended to diagnose, treat, cure or prevent any disease.