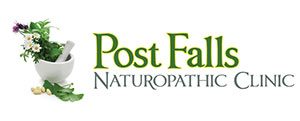 Welcome to our new website. we are still working on it to provide more information and easier access to our clinic. Please send us any suggestions on what you would like to see. Post Falls Naturopathic Clinic is committed to providing dynamic approaches to health and healing that do not rely on drugs, surgery, and/or other conventional medical procedures for treating illness. Thomas Edison said, "The doctor of the future will give no medicine, but will interest his patients in the care of the human frame, in diet, and in the cause and prevention of disease." We are committed to these ideals. At Post Falls Naturopathic Clinic we embrace a variety of safe, effective assessment and treatment options.  These include education for lifestyle changes and self care, energetic and homeopathic remedies, whole food nutrition, herbs and emotional balancing techniques.
It is our endeavor to search for the underlying cause of disease. Prevention is preferable to treatment and is usually more cost-effective. Here at PFNC, we believe that optimal health is much more than the absence of sickness. It is the conscious pursuit of the highest qualities of physical, environmental, mental, emotional, spiritual, and social aspects of human experience.
We hope that you will take time to read several of the articles that are available on this site. We encourage you to check back from time to time as we will be adding more information as we walk together in our pursuit of dynamic health.
DR Lachman